Like most collectors you have to be of a somewhat obsessive/compulsive nature ... one day I found that I had more dice than anyone I had ever heard of so I started searching ... After 2 years of extensive internet and library searching I only turned up two "rumors" of larger collections ... one was destroyed in the October 17, 1989 San Francisco earthquake ... the other I have yet to find info on ...
Through my research I heard that the largest to date was somewhere around 5000 pairs (casino dice) ... I felt that this was an attainable goal ...
I have since found it was much harder than I thought it would be .... Guinness has very stringent rules for collectors so I had to cull many duplicates ...
---
How it all started ... and continues ...
I suppose the collection started in 1977 when I first played Dungeons and Dragons ... as any gamer knows ... you have to HAVE to have at least one set of dice ... but many like myself had several sets ... Here are several of my first dice ...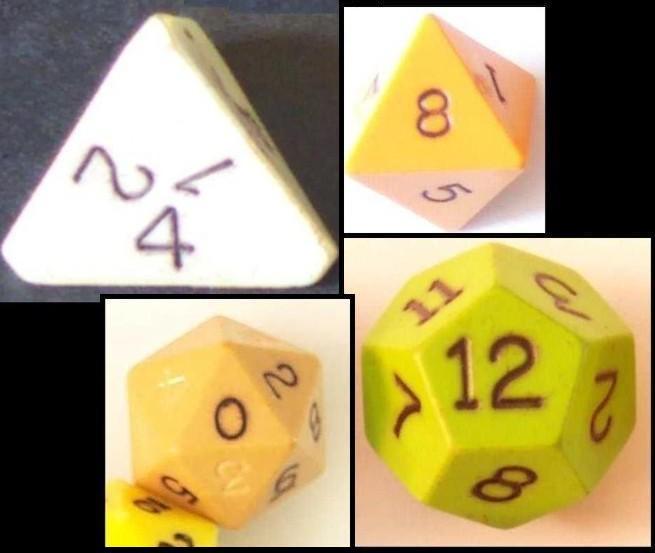 They were all Gamescience dice ... Why aren't there any d6 or d10's? The d6's were lost to time ... there weren't any d10's ... they came later ... So how did we roll percentile dice? ... notice that the d20 is numbered 0-9 two times ... you picked a die to be the '10's' dice and just rolled ...
I had the cheap dice that came with the second D&D boxed set ...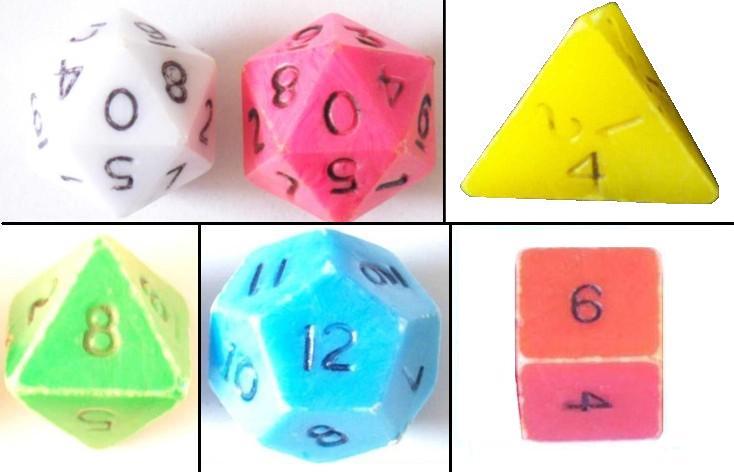 but I never used them ... so they just sat in my dice bag unwanted until I started recording what dice I owned ... then they became INVENTORY
Sometime between 1977 and 1980 ... I got my first set of Armory dice ... I wondered what the 'A' meant ... later on Lou Zocchi (Of Gamescience) told me that they were first generation Armory dice ...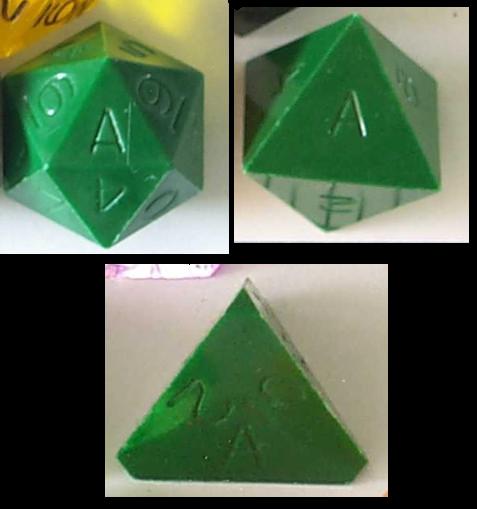 In 1981 I was visiting pawn shops in search of dice when I came across an old shoe box full of dice ... it contained many crystallized dice which disintegrated on examination ... and some bone dice ... the collection didn't increase much because most of the dice fell apart ... but it got me into the mindset for collecting

From 1981 until October of 1998 my primary source for dice was from gaming shops ...
Dutch Door Hobby Shop in Columbia, South Carolina (USA) ...
Green Dragon
...
Enterprise 1701 (now
Sci-Fi City
) ...
Boardwalk & Park Place (now out of business) ...
Compleat Games & Hobbies (now out of business) ...
In October of 1998 I discovered

... My inventory was around 4000 at the time excluding duplicates ... From 1998 to the present about 80% of my dice are acquired via

using the following search ...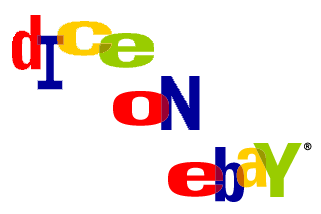 Some time around August of 1999 I discovered
The Dice Maniacs Club
... I was very pleased to find another dedicated collector ... Dr. Alexander Simkin (the founder of the club) ... Later that year I made a trip to London and had the pleasure of actually meeting this fine gentleman ... We had a couple of opportunities to prowl the streets of London in search of new dice ...
In
2005
...
Chessex Manufacturing
introduced to the world ...
laser engraved dice
... which opened up an entire new genre for dice: easy ... fast customization
Not long after many other companies started providing this kind of service
In
2010
...
Shapeways
started producing
3D printed (then called Rapid Prototyped or RP) dice
that could be printed in Plastic or Metal (they have since expanded greatly)
Shapeways is a co-operative printer that allows artists to display their designs and offer them for sale to customers whereupon Shapeways prints the design
In 2011 ... the first
Kickstarter
campaigns including
custom dice
were offered which allowed inventors / artists / game designers to publically fund their projects
<< Story still under construction >>
History of the housing of the dice
1977 - 1981 Various fishing tackle boxes
1981 - 1983 Velour bag made from an old shirt ...
my gaming group used to call it the Bowling Ball as when full it resembled one
1983 - 1988 A small two door cabinet with a handle on the top ...
The cabinet had velour lined trays that were similar in form and function to the tackle boxes ...
just larger and more customized to my needs
1988 - 1995 A small velour lined
chest
with the same interior dimensions as the cabinet ...
just deeper with more trays ... sometime during this period I added a second
chest
1995 - Present
HERE
is the most recent photos of the storage ...
About 1995 I realized that I was a serious collector
and decided to try to 'house' and catalog the dice ... so Rubbermaid came into use